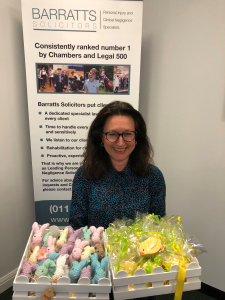 Julie Hardy was surprised to receive a lovely, personal gift from a grateful client this week. Julie had recently settled a clinical negligence case for her client, who arrived with a gift of home made Easter chick biscuits and beautiful knitted rabbits (with chocolate eggs inside) . We were all pleased too, as there were lots to share around our staff! We are lucky to have such a talented client who can bake and knit and took so much time to make these presents.
It goes without saying that we love doing our work and, when this is appreciated by clients, it makes it even more worthwhile. We always aim to provide the highest standards for clients and this is only possible because of the amazing team who work at Barratts. They make a real difference to the future lives of those injured by negligence. We are so pleased when one of our expert clinical negligence solicitors is recognised by a client for the help they provided during litigation.
Thank you also to Julie for sharing her delightful present with everyone at Barratts.