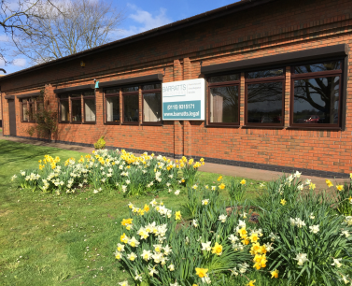 Here is the information the Charity sent us on the Sheffield Unit Spinal Injury Centre:
"Guided by our incredible NHS staff, your donation will provide a level of patient care beyond that which NHS funding alone can offer, and so you will be helping patients and their families at a time when they need the most support.
You are helping to provide vital support for patients, their families and the staff who care for them in the Spinal Cord Injury Centre and the Northern General Hospital.
Together, our challenge is to support staff to deliver the best care and treatment they can for patients and families today, in the most modern facilities and with the most up-to-date equipment, and to give their researchers the opportunity to make ground breaking discoveries that will advance patient care and give hope to future patients.
With your support, Sheffield Hospitals Charity can help your doctors and nurses provide the best medical care possible. Just a few examples of the amazing things people like you have made possible for patients with spinal injuries and their families include:
The very first 'Ekso' exoskeleton for an NHS hospital supports rehabilitation for patients who are paralysed with spinal cord injuries. This incredible piece of equipment is a bionic suit that allows patients to experience standing and walking again, and to move on two feet, sometimes after many years in a wheelchair.
A reclining cross trainer for the physiotherapy gym that allows both arms and legs to be exercised at the same time. This increases muscle strength, range of movement and improves fitness, meaning that patients are able to engage better with their rehabilitation. Using a reclining cross trainer also helps people to re-learn how to stand and walk following a spinal injury.
A specialist Functional Electrical Stimulation (FES) exercise bike which performs an important rehabilitation technique for spinal injury patients. The bike applies a small electrical current to paralysed or weakened muscles in the legs, which reduces muscle spasm, improves strength and range of movement and also increases circulation.
Please do get in touch with me, or any member of the team, if you have any questions about our work or about the charity in general, and please feel free to pass on my details to your friends and neighbours if you think the charity would be of interest. You can contact us on 0114 271 1351 or email charity@shct.nhs.uk.
As always, you can visit us online at sheffieldhospitalscharity.org.uk and on social media (you can find us on both Facebook and Twitter) to keep up with our latest events and appeals."
The Charity also have a leaflet (available as a pdf file) which can be sent by email to anyone interested in their work.
Find out more about Barratts spinal injury solicitors.