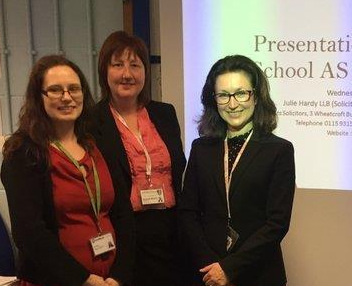 Two of our solicitors enjoyed meeting the pupils at Ashfield School recently. We gave them a presentation to explain what evidence is needed to succeed in a claim for negligence. We also gave them some examples of the type of cases we handle. Julie told students how the standards of doctors are judged in clinical negligence cases. Then Debra outlined why it can be difficult to recover compensation in some road traffic accident claims.
The students heard how the Judges will decide the amount of compensation. We described how varies, depending on future financial losses and the earning prospects of injured clients.
The English system often causes confusion about the roles of barristers and solicitors. Some members of the public still think that a barrister is a more senior appointment when, in fact, it is merely a different career choice after completing a law degree. We explained to the pupils that some solicitors or barristers originally chose to take a non-law degree. They then studied for another year to qualify as a solicitor or barrister.
We tried to give them a flavour of work in the Law. Whichever route you take, it is a challenging career which means no 2 days are the same. We also think that our specialist area of law, helping clients with life changing injuries, is extremely rewarding and puts everyday minor problems into perspective. Julie and Debra were delighted to be able to talk about our work with such enthusiastic students and perhaps we have ignited an interest in the Law for some of them as well!