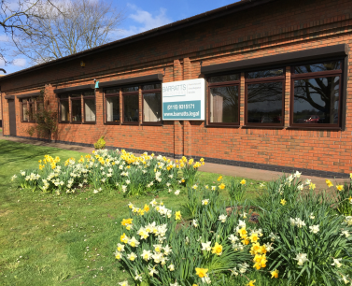 We have been based in Nottingham for over 25 years. We started the New Year by opening a new office for Barratts Solicitors in Derby city on January 24th. It was a big change for us but we were responding to increasing demand for our specialism in high value personal injury and clinical negligence claims in the East Midlands.
Our firm has been independently ranked in the top tier in its specialism for over 20 years. It is one of the few in the area with the experience to deal with complex injury claims. We are receiving an increasing number of referrals from the Derbyshire area.
Client care, assistance with rehabilitation and rebuilding lives are principles which underpin the way that Barratts handles cases. We are able to secure funds for clients quickly, which enables them to engage in the recovery process sooner. We also work closely with professionals, who install home adaptations, supply mobility equipment and provide home care.
Links with Headway
Barratts partner Ed Myers, is Chair of Headway Nottingham. He spoke to the media about the decision to open a dedicated Derby Office. "Opening an office in central Derby reflects the increasing number of clients who are based in Derby and the rise in the number of referrals from the Derby area. As part of our strategic development plan we're anxious to provide the best and most convenient service to all clients who have suffered serious injuries, and we are confident this move will be successful."
The newly opened office in the Old Court House, St. Peter's Church Yard will link Barratts to Derbyshire head injury charities and medical professionals. We also want to provide a closer base for clients who may prefer not to travel to Nottingham.
If you need advice and are living near Derby please call us on our new phone number: 01332 565395
Associate Debra Morris, who was previously based in Derby for over 10 years, said of her return to the city – "I'm really pleased to have a base here from which we can continue to help and support people rebuilding their lives after serious injury. It makes it so much easier for our clients in this area and is a first step for our continuing expansion plans in the Derby area."
Word of our expansion into Derby has already made the news.
http://www.thebusinessdesk.com/eastmidlands/news/12826-nottingham-law-firm-opens-derby-office