Spinal Injury Solicitors in Nottingham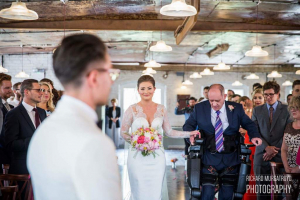 Our spinal injury solicitors have extensive experience of working with clients whose lives have been changed following clinical negligence. We understand the shock that people feel when a medical error has left them paralysed or facing lengthy rehabilitation. You might be unsure of your position and it can be difficult to know what to do next. We realise you are facing difficult decisions and we start by giving you the information you need and letting you consider your options in your own time.
Everyone's situation is different but a number of clients come to us because they experienced a delay in diagnosing a condition like cauda equina syndrome or other neurological conditions. We have also helped clients who were let down by mental health services and suffered spinal cord injury in attempted suicides. Over our decades of experience, we have built a strong reputation as spinal injuries solicitors who care deeply about getting the best outcomes for their clients.
This is why our clients have recommended us to the Spinal Injury Association (SIA) and they have agreed that we meet the standards required to join their panel. We could not have a better recommendation than that.
An experienced spinal cord injury solicitor reviews every case thoroughly and adapts to each client's unique situation. For all our clients, we ensure you get personal help from our small but dedicated expert team – which includes skilled cauda equina solicitors. We know how important it is to get you the right treatment promptly but we also understand that you need time to come to terms with what has happened. You can read about the experiences our personal injury client has with our team after he suffered a spinal injury when his bicycle was hit by a car. He really appreciated our calm approach which put him at the heart of conversations.
We take the same approach after a spinal cord injury caused by medical negligence. We will gather the information we need to get a clear picture of the events. It is important that we can describe the circumstances of your injury fully and show where decisions or delays contributed to the final outcome. We also encourage the Defendant to meet you. This might sound daunting but we will be with you and we know that this reminds defendants that you more than a number. The sooner we can agree interim payments with defendants, the sooner you have control over your treatment choices and you can begin making plans for future.
While we are talking to you about your claim, you can let us know what information you want us to share with you and you set the pace. Even though we're all senior spinal injury solicitors, we simplify all the legal jargon and complexities of your claim so you understand what it going on. You can rely on us to provide honest advice and to flag up any risks in your claim. If we believe the Defendant's offer of compensation is too low, we will let you know and we'll speak up for you.
Barratts spinal injuries team also helps with lots of practical support including:
Neuro rehabilitation
Care support and case management
Accommodation
Specialist equipment
Lastly, we realise that your progress cannot be achieved in isolation. We know this involves others including your family and friends and other professionals. The fact that much of our work is referred by professionals is because we know how to work together to get the best result for you.
To talk to us in confidence about your case, just give us a call on 0115 931 51 71 or send us an email.