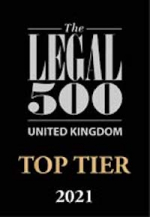 CELEBRATING BARRATTS REVIEW BY LEGAL 500
Legal 500 is an independent legal guide, which reviews law firms all over the UK and abroad to identify leaders in their field. Each year, Barratts has been included for personal injury and clinical negligence advice for Claimants. Each year, Barratts has been ranked in the number 1 tier, an achievement which no other East Midlands litigation firm has matched in the last 30 years.
Why is Barratts consistently ranked number 1? The answer has always been our staff. In our 30th year as a niche litigation injury firm, we continue to employ dedicated solicitors committed to providing personal expert legal advice for clients. That is why we are so delighted by the recognition of Clinical Negligence solicitor, Emma Zukowska, as a "leading individual" in Legal 500. Emma has been with Barratts for 20 years and has vast experience in all areas of medical claims. Here is just one reference from one of Emma's clients:
Emma Zukowska has been truly amazing throughout the whole of my case. She has always listened and been a objective voice in what has been a very emotional journey. From my very first call, she offered calm and reassuring advice. Her professionalism, honesty and sensitivity toward both myself and my family has been greatly appreciated. Her thorough preparation, excellent knowledge and determination to obtain a positive outcome for my case has enabled me to trust her implicitly.
Ed Myers remains in the "Hall of Fame", a reflection of his long career dedicated to helping injured clients in personal injury, criminal compensation and industrial disease cases.
Barratts is said to be:
'Exceptional client-focused firm with partners taking direct responsibility for each client. Very experienced in handling catastrophic injury cases. '
Another person described us as the "best claimant clinical negligence solicitors in Nottingham". Our reputation has been built on 30 years of litigation experience, including our amazing support staff who have been with us for years. Our approach has adapted but not changed in 30 years,  namely doing our best for injured clients in a small legal team, which attracts some of the best lawyers in the country to maximise some of the best compensation results for clients in the UK.
Thank you to all our staff.
For the full story click here:
https://www.legal500.com/firms/235-barratts-solicitors/2510-nottingham-england/#section-111969