Ed Hudson – Serious Injury Guide Plus
Ed Hudson sustained serious injuries, a C4 fracture of his spinal cord, in a road traffic accident in February 2018. Ed originally instructed another firm of solicitors but when it became apparent to him, shortly before his discharge from his spinal unit, that very little was happening he organised a "beauty parade" of five leading personal injury lawyers. He ultimately selected David Tomlinson to pursue his claim. David immediately recognised that Ed had huge potential for rehabilitation that was not being met and was also facing a crisis of an imminent discharge from the spinal unit with nowhere for Ed to go.
Barratts are signatories to the Serious Injury Guide which is designed to promote cooperation with insurers to provide rehabilitation alongside the litigation process. David recognised that even this approach was not going to be sufficient given the urgency of Ed's case and therefore was able to reach agreement with the insurers for the claim to proceed with an even high level of cooperation than is normally found under the Serious Injury Guide. Initial meetings took place with the insurers and their lawyers at Northern General Hospital in Sheffield, a case manager was appointed, Ed was transferred to a specialist rehabilitation centre, STEPS, and he remained there until specialist, long term accommodation had been located and adapted.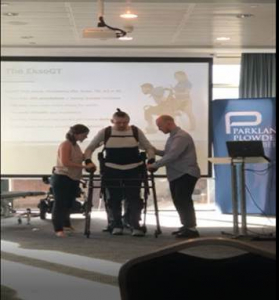 Ed ultimately moved into his specialist accommodation with a 24 hour care regime in place, full equipment was provided to assist Ed with his day to day needs including specialist equipment to help him with rehabilitation, muscle strength etc and to enable him to have as much independence upon his day to day life as possible.
The level of cooperation with the insurers continued which led up to a settlement of his claim following a round table meeting in May 2020, just under 2 years after David was originally instructed by Ed to pursue his claim.
Ed's claim has been recognised as an exceptional example of what can be achieved with sufficient cooperation between specialist solicitors and insurers.  Ed has spoken publicly about his claim at legal conferences and has demonstrated some of the specialist equipment that he has used including an exoskeleton.
Further details of Ed's life and progress since his accident can also be found at his blog – www.edandneck.com.
Opening Hours
Mo-Th: 9:00-17:00
Fr: 9.00-16.00
Out of hours appointments are also available
Terms of business